Vietnam Visa Extension
Announcement from Vietnam Immigration Department: Foreign nationals who enter Vietnam with visa exemption, e-visas or tourist visas from 1 March 2020 are "automatically extended" their stay until the end of June 2020, they may exit during the period without having to extend their visas. See more
In case you have planned to stay in Vietnam after the period (from July 2020 onward) you need to extend your visa in accordance with current regulation.
Do you need to extend your stay in Vietnam? If so, do it at least 1 week before your visa expires. It takes about 5 working days for visa extension and you will be fined if you don't extend your visa in time.
Our visa extension services will help you solve key problems that foreigners usually meet when extending visas:
- Language barrier and working norms in Vietnam;
- Poor preparation or fail to meet requirement;
- Ignorance about regulation, procedure in state office;
- Requirement for legal hosting entity for your stay;
- Significant numbers of your compatriots committed Vietnam laws.
Expense for visa extension varies, depending on your original visa, your length of extension, at particular time and other undisclosed factors (eg, huge markup). To get your visa extension quotation, please send below information to visatuanlinhtravel@gmail.com:
- The first page of your passport;
- The Vietnam visa page in your passport;
- The Vietnam entry stamp in your passport (which shows your entry date and port of entry);
- The last visa extension stamp (if any);
- Your current address in Vietnam;
- Your Vietnam mobile number;
- Your desired extension.
If you do not want to send your passport copy, you can send us: your nationality; place of visa issuance; entry date and port of entry; your last visa extension (if any); your current address in Vietnam; your desired extension.
After having your information we will check the possibility and inform you the total cost. Once reaching an agreement you have to send us your passport and payment for service fee. We will proceed the work and give passport back after having extension stamp inside.
Contact us (see below) to get quotation for Vietnam visa extension:
- Mobile, Whatsapp, Viber, Zalo: 0913505609
- Landline: 024.62768855
- Email: visatuanlinhtravel@gmail.com
Note when extending visa:
- Passport have at least 2 blank pages;
- Passport is valid at least 3 months after the extension ends;
- Maximum 2 times extension per visa;
- Visa extension is valid for your stay only, not for entry.
Vietnam visa page in your passport:
Vietnam entry stamp in your passport: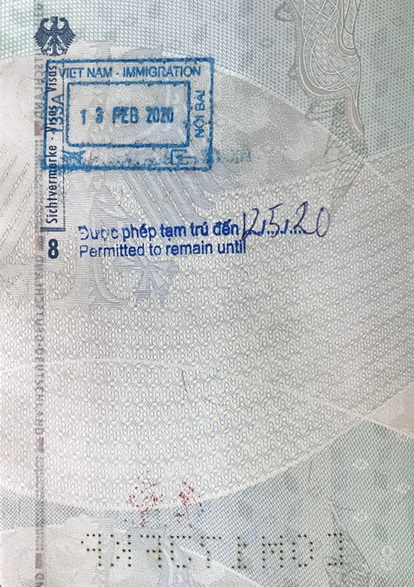 Visa extension stamp in your passport: